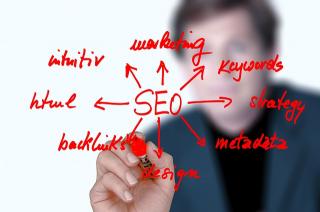 Out of all the various sources of traffic, search is by far the most powerful one. It accounts for a hefty 51% of all visitors to sites, compared to trivial contributions from paid, social, and other sources. This revelation demonstrates why SEO has evolved to a superior degree today – it is no longer restricted to manual keyword research and spammy link building. It now thrives on precise strategies, keen foresight, and meticulous analysis.  And as the saying goes, necessity is the mother of invention.
From web analytics to WordPress plugins to small-time SEO tools, lots of advances have been made to boost online visibility. However, it was the launch of Enterprise SEO Platforms that truly revolutionized the game by packing all these services into one software that does it all.
What is an SEO Platform?
An SEO Platform provides a one-stop digital marketing solution for elevated web presence by identifying, modifying, analyzing, and reporting on all aspects of your SEO campaign.
It isn't limited to mere tools, but instead creates an automated system of site optimization that integrates all tasks into one powerful interface. SERP rank is continually monitored and updated based on algorithmic changes, and any site-wide issues are diagnosed and fixed on the go. Moreover, its usage combines both in-house and agency specialists' expertise, allowing the development of successful strategies.
What are the benefits of using an SEO Platform?
An SEO Platform provides countless advantages that propel it above smaller tools and plugins in overall search intelligence. These include:
Identification of keyword opportunities
Audience and competitor insights for a highly targeted strategy
Development of optimized content
Link analysis and discovery
Routine SEO audits
Real-time SERP tracking on site and page level
ROI forecasting and analysis
24/7 customer support for software guidance
APIs for integration with third-party software
Task assignment and collaboration via accessible interface
Automated report development and generation
How can I find the best SEO platform?
It can be overwhelming to choose between the multiple platform options available today due to a lack of awareness regarding Enterprise SEO. To decide which software best matches your organizational needs and budget while providing quality services, you should evaluate it on these indispensable attributes:
Audience and competition analysis
The ideal SEO platform would have SERP and keyword monitoring capabilities that derive actionable insights into searcher intent, competitor tactics, and rising trends. This includes assessing keyword ROI, content to develop for specific keyword categories, and competition difficulty. Based on that information, action plans for content strategy are developed and implemented. 
To give your site an advantage over your competitors, you need to understand their strengths. Consistent SERP tracking is a crucial feature for efficient platforms and helps detect high-value keywords you need to win over. The software should thoroughly inspect competitors' webpages to draft new content ideas to increase your rank. 
Ongoing/ client support
SEO Platforms are big data interfaces with multiple functions, which means that they can occasionally be challenging to navigate. Thus, there needs to be continuous online and live customer support available to effectively handle any hiccups during usage. Such assistance ensures that the streamlined SEO model guaranteed by these platforms is maintained.
Client support ensures insights are rightly interpreted, no data is missed out on, and any software errors are immediately troubleshot. The best SEO platforms deeply involve themselves with their customer's experience to help them achieve their marketing goals.
Integration with other software
An efficient platform must have in-built APIs to ensure data sharing and integration with web analytics and CMS systems. Search engine webmaster tools, such as Google Analytics and Search Console, are fundamental to your SEO toolkit. Other insightful meta information, such as average rank, market reach, and demographics data, is also transferred via APIs.
Coordination and task assignment
A workflow management system assigns tasks to each relevant department, such as content creation, web development, PR, and social media. It also allows task monitoring to achieve the timely execution of the overall campaign.
Such a system also enables coordination between different teams. They communicate under the direction of a singular SEO strategy and access the same information to guide their work.
Reporting mechanisms
To make sense of the mounds of data collected, an SEO platform must have in-built reporting systems that analyze the data thoroughly. Tracking KPIs and interpreting them is a very time-consuming process in SEO, especially since there are many useful indicators for each tactic.
Automated reporting makes the process faster and error-free. Moreover, you can generate forecasts and predictive reports using real-time data via these mechanisms and create strategies beforehand for profitable results.
Investing in the right SEO platform could be a highly lucrative decision for your business, as it enables you to stay on top of the game throughout your site's lifetime, without going through the hassle of hiring an SEO agency every few months for a revamp.
What's Next?
Check out Digital Media Nomad's fully automated SEO platform that enables quick keyword-focused content creation, link development, and data sharing. Our system delivers favorable results in a matter of weeks, and the graph doesn't dip down.